PENELITIAN TERHADAP MINAT MENJADI GURU AGAMA DAN KATEKIS DI STKIP WIDYA YUWANA MADIUN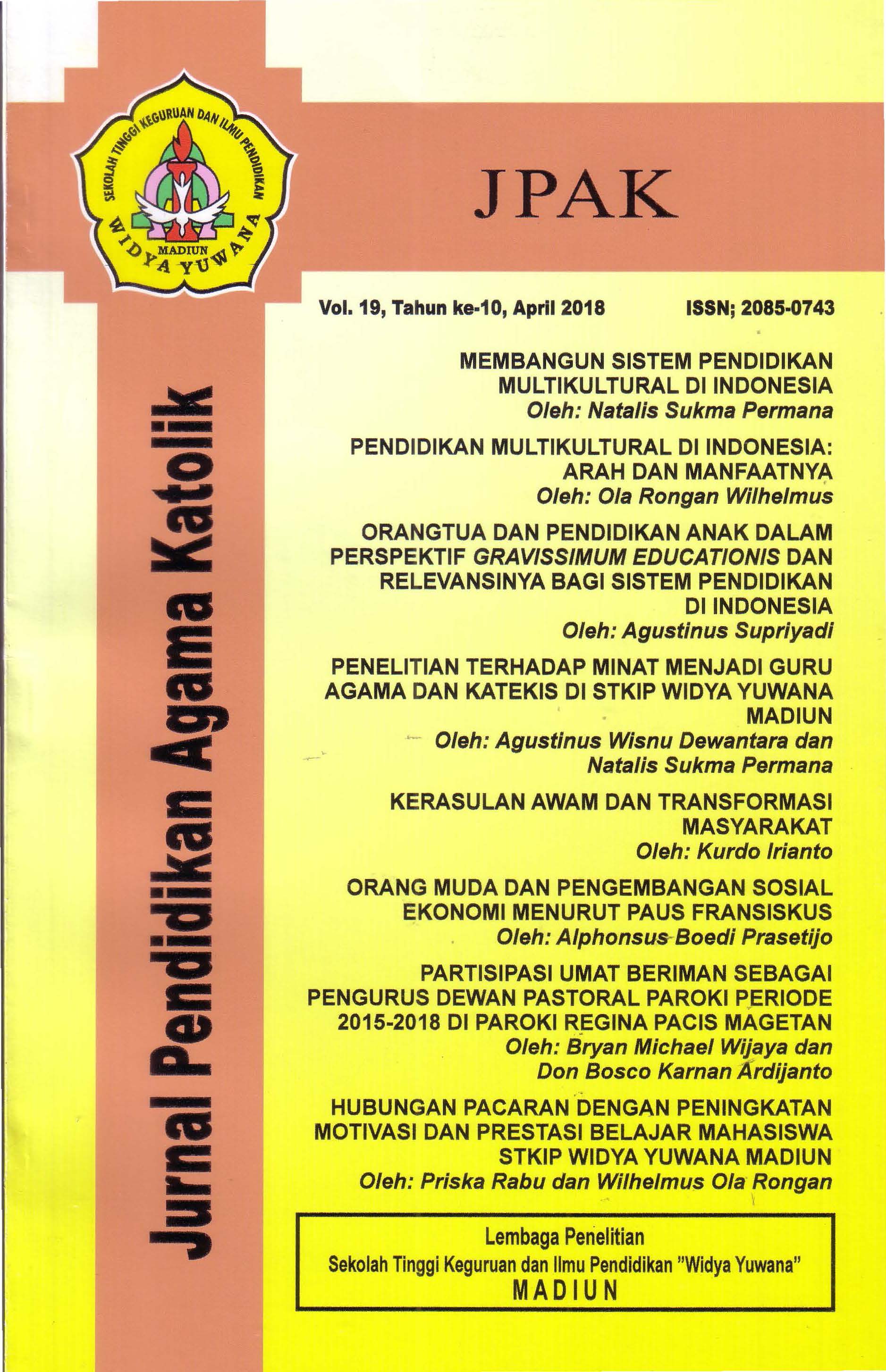 Abstract
 Catechetic is the coaching of children, youth and adults in the faith, which is specific to the delivery of the Christian movement, which is basically given organically and systematically, The Catholic Religion teacher deeply embraces her duties and mission through her work at school. This work is the duty and mission that comes from God himself. The Catholic Religion teacher is expected to earnestly live his vocation as a religious teacher. A Catholic teacher is an educator as well as a journalist. An educator or reporter will be able to carry out his duties well if he has a clear and correct understanding of what is actually the purpose of teaching Catholicism as a means of preaching the love of Jesus. A Religion Teacher is a person whose job is to teach another person or an emulated and imitated person. It means that the word is imitated and imitated by faith and deeds by dodging the Christian life.
STKIP Widya Yuwana is an institution owned by the diocese of Surabaya aimed at educating prospective catechists and religious teachers. The institute was originally founded by Paul Janssen, CM under the name AKI (Indonesian Catechetical Academy) which aims to produce a militant and powerful catechist. According to the times, AKI has changed into STKIP Widya Yuwana. As the name implies, this institution is then identified as a producer of religious teachers, and even the impression that this institution no longer exists on the path of Jansen's romance as a catechist producer, and turned into a producer of Catholic religious teachers.
This research is needed to photograph what really happened to the students. Is it true that the outward impression that graduates and students are more likely to be teachers? If so, what is the motivation behind it? Is it really a catechist profession is not promising, or indeed STKIP Widya Yuwana who had already lost the spirit of the founder of its predecessor?
 Keywords: interest, cathetic, teacher